About SFR
The idea for Superior Friction Reduction grew out of the extreme Montana climate. From the searing heat of the high plains to the bitter cold of the Rocky Mountains, both man and machine required protection from the harsh environment. Families needed the peace of mind while driving across the endless landscape. And in subzero temperatures, ranchers needed reliable tractors and lifts to carry hay across remote, snow-covered ranges.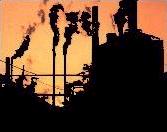 Over the course of many years, SFR was tested and refined in computer models and in real-life situations. We began selling SFR much like we continue selling it today - one person and one company at a time. Since the beginning, we have maintained that our relationship with each customer comes first. Today our long list of national and international customers includes General Motors, Geo-Con, IBM, Pillsbury, Frigidaire and Ford.
The success stories we hear from SFR users seem endless. In Washington, a man set go-carting records by raising his RPM. A trucking company avoided damage to five 8V92 Detroit engines after antifreeze and dirt contaminated their oil by using SFR. Frigidaire has reduced AMP draw from 103 to 82 in their 150-horsepower compressors. Geo-Con reduced their fuel consumption from 140 to 126 gallons per day on a 40 kW generator.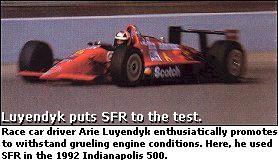 We know we are in the business of helping other businesses improve their efficiency. That is why we take the time to find out how SFR works in each piece of your equipment. We are totally committed to the performance of your machines - and your business.